VISION:

• To promote academic excellence with total commitment to quality education in management and related fields, with a holistic concern for better life, environment and society

MISSION

• Exposing the students to the curriculum that is prescribed in the syllabus.

• Providing value based education for a better society.

• Encouraging students to be socially responsible.

• Encouraging students to perceive higher studies
• To build the department as center of excellence for imparting quality management education at the undergraduate level.

• To make students participate effectively in a team situation.

• To provide an environment that facilitates all-round development of the students personality.
Mrs. Hema B.D, M.Com.
HEAD OF THE DEPARTMENT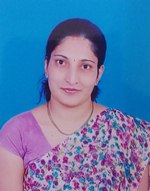 &nbsp&nbsp
Mrs. Nirmala M.T, M.Com.
ASSISTANT PROFESSOR
&nbsp&nbsp
Mr. Sanketh A.P, M.Com.
ASSISTANT PROFESSOR
&nbsp&nbsp
Ms. Delphina J, M.Com.
ASSISTANT PROFESSOR